The Dollar Shave Club offers current members a $5 bonus credit for every friend that you refer for membership.
Join the Dollar Shave Club to get new shaving blades on a monthly basis.
How Dollar Shave Club Works
Dollar Shave Club is a monthly shaving subscription service for men and women that sends you a free blade handle when you join and new blades on a monthly basis.
It's free to sign up for Dollar Shave Club membership, and you just pay for your new blades on a monthly basis.
Blades start at just $1 per month with $2 shipping (for a total of $3 per month), or you can upgrade to even better blades for $6 or $9 per month with free shipping included.
Every new member gets a free compatible handle for your blades, and if you upgrade or downgrade your plan to a different blade in the future, you get another free handle to use.
You can cancel online at anytime, so there is no long-term commitment required.
Dollar Shave Club $5 Referral Credits
Once you join the Dollar Shave Club, you can earn $5 DSC credits for every friend that you sign up.
To refer a friend, just copy your unique referral link from your account page, share it with a friend, and make sure they click on your link to join.
For every friend that you successfully refer, you get $5 of DSC credits added to your wallet.
DSC credits are applied to charges for monthly subscriptions and can also be used to purchase DSC extras each month.
These DSC credits will be applied first before any charges for your monthly subscription or extras each month.
Unfortunately, new Dollar Shave Club members do not earn any special incentive for signing up through a current member's referral, except for a great price on shaving razors each month.
Share Dollar Shave Club Referrals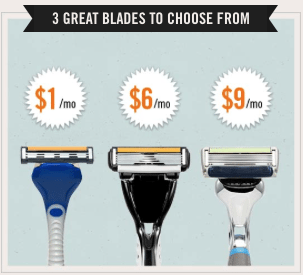 Please feel free to share your Dollar Shave Club referral link in the comments section below this article, so that other readers may sign up using your referral link.
In order to participate, you must be a legal resident of the United States and at least 18 years old.
You must have a membership account in good standing with Dollar Shave Club.
Employees of Dollar Shave Club, its service providers or any of its or their subsidiaries, affiliates or promotional agencies, including immediate family and household members, are not eligible.
How To Cancel Your Dollar Shave Club Membership
You can cancel your Dollar Shave Club account at any time by following these instructions:
1. Log into your account.
2. Click Membership settings.
3. Choose Cancel My Account.
Take advantage of the Dollar Shave Club referral program to get $5 credits for each new member that you refer.
You may also be interested in the Bonobos Men's Clothing Store to earn more referral credits toward menswear.