The ParkWhiz parking app helps you save up to 60% off parking in 150 cities nationwide.
Plus, you can get a $5 Free ParkWhiz Credit to use toward your first parking reservation when you click on this referral link and enter your email address today.
You can book discount parking with ParkWhiz through their website or their free apps for Android and iPhone.
How ParkWhiz Works
1. Enter your desired time and location to view all available parking options, listed at the cheapest rates possible.
2. Reserve the spot where you want to park and pay for your discounted parking reservation.
3. Show your ParkWhiz pass when you arrive at your parking destination to claim your reservation.
ParkWhiz works with a huge selection of parking garages as well as special event parking and private parking spots.
You can review detailed information about each parking space, including previous parkers' reviews.
You can cancel your reservation up until the time it is designated to begin.
ParkWhiz $5 Free Credit for New Users
To get a free $5 credit, just click on this ParkWhiz $5 Referral Link and create an account to claim your $5 parking credit.
A $5 credit will be automatically added to your new account.
You can then use your $5 credit toward your first parking reservation on ParkWhiz.
ParkWhiz $10 Referral Program Rewards
Once you create a free ParkWhiz account, you can access the ParkWhiz refer-a-friend program.
The ParkWhiz referral program provides you with a $10 credit for every 2 friends that you refer who use ParkWhiz.
For every 2 new users that you refer who purchase and park through ParkWhiz, ParkWhiz will send you a $10 credit that is valid for 1 year.
As a referrer, can only earn a lifetime maximum of $260 in ParkWhiz credit in connection with the referral program.
Your referrals will get a $5 free credit to use toward their first reservation just for clicking through your referral link.
You'll get a $10 referral credit as soon as 2 of your referrals complete their first parking reservations.
So you all get free parking, and everybody benefits with the ParkWhiz referral program.
You can refer your friends via Twitter, Facebook, and email, and you can access your unique referral link by copying it from the Twitter referral option.
You may feel free to post your ParkWhiz referral links in the comments below this article to share with other readers, or start a referral conga line, so that everybody can benefit with free parking.
If you are a new customer, you can simply enter your email address via this ParkWhiz $5 Referral Promotion to receive a $5 discount code via email that you can enter when making a parking reservation on either of the apps or website.
List of Cities Where ParkWhiz Is Available
50th & France, Edina, MN
Ann Arbor
Arlington
Arlington, VA
Astoria
Atlanta
Auburn
Austin, TX
Baltimore
Battery Park
Bayonne
Berkeley
Beverly Hills, CA
Birmingham
Boerum Hill
Boston
Bowery
Boystown
Bridgeport
Broadway
Bronx
Brookline
Brooklyn
Brooklyn Heights
Buffalo
Cambridge
Canal Street
Cathedral Heights
Charlotte
Chelsea
Chicago
Chicago Gold Coast
Chicago Loop
Chicago Near North Side
Chicago River North
Chicago South Loop
Chicago Streeterville
Chicago West Loop
Chinatown
Chinatown, SF, CA
Cincinnati
Civic Center
Cleveland
Clinton Hill
Cobble Hill
Columbus
Cow Hollow, SF, CA
Crystal City
Dallas
Daytona Beach
Dearborn Park
Denver
Des Moines
Detroit
Downtown Brooklyn
Downtown, Dallas, TX
Downtown, Washington, DC
Dupont Circle
East Harlem
East New York
East Rutherford
East Village
Edgewater
Edgewater Beach
Embarcadero, SF, CA
Evanston
Financial District
Financial District
Fisherman's Wharf
Flatiron District
Flushing, New York, NY
Foggy Bottom
Fort Lauderdale
Franklin Park
Gramercy
Greektown
Greenwich Village
Hamilton Heights
Harlem
Hartford
Hoboken
Hollywood
Houston
Hudson Square
Hunters Point
Indianapolis
Inner Harbor
Inwood
Irving
Jacksonville
Jersey City
Judiciary Square
Kansas City, MO
Kips Bay
K Street
Lakeview
Lenox Hill
Lincoln Park
Lincoln Square (NYC)
Long Beach
Long Island City
Los Angeles
Lower East Side
Lower Manhattan
Magnificent Mile
Manhattan
Marina District, SF, CA
Memphis
Miami
Midtown
Midtown East
Midtown South
Midtown West
Milwaukee, WI
Minneapolis
Mission District, SF, CA
Morningside Heights
Morris Heights
Murray Hill
Museum Campus
Nashville, TN
Near West Side
Newark, NJ
New Brunswick
New Orleans
New York City
Nob Hill
Oakland
Oak Park
Old Town
Orange
Orchard Park, NY
Park Slope
Pasadena
Penn's Landing
Philadelphia
Phoenix, AZ
Pittsburgh
Pleasant Plains
Portland, OR
Prospect Heights
Providence
Queens
Raleigh
Rockville
Rosemont
Saint Paul
Salt Lake City
San Antonio
San Diego
San Francisco
San Jose
Santa Ana, CA
Santa Monica
Seattle
Sheridan Kalorama
SoHo
South Bronx
South of Market, SF, CA
South Side
Springfield Gardens, New York, NY
Staten Island
St Louis
Swampoodle
Tallahassee
Tampa
Telegraph Hill
Tenderloin
Tenleytown
Toledo
TriBeCa
Upper East Side
Upper Manhattan
Upper West Side
Uptown
Walnut Creek, CA
Washington DC
Washington Heights
West Village
Westwood Village, Los Angeles, CA
Wicker Park
Williamsburg
Wrigleyville
Yonkers
Yorkville
Benefits of Using ParkWhiz App for Android or iPhone
You can book parking reservations directly on the ParkWhiz.com website, but there are additional benefits to using the ParkWhiz app.
Instant Access to Parking Spots When You Need One.
Exclusive Mobile-Only Parking Rates.
Directions To Your Parking Spot.
Walking Distance to Your Final Destination.
Access ParkWhiz Parking Pass In-App for Easy Access.
1-Touch Call to Customer Service.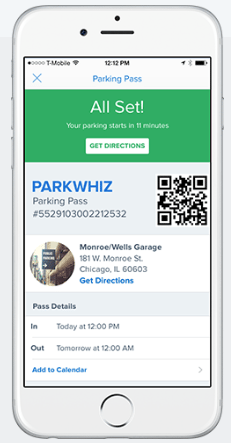 You can also try similar discount parking reservation services like Parking Panda and SpotHero, which also provide free parking credits for new users.
Give ParkWhiz a try with a free $5 credit toward your first parking reservation and save up to 60% off parking in 150 cities nationwide.