The Upromise referral program is now offering a $20 bonus for both new and current members.
New Upromise members can earn a $20 bonus after you make a qualifying purchase of $20 or more within 30 days after you join the free Upromise college savings program through a current member's referral link.
Plus, current Upromise members will receive a $20 bonus for each new member that you refer who makes a qualifying purchase.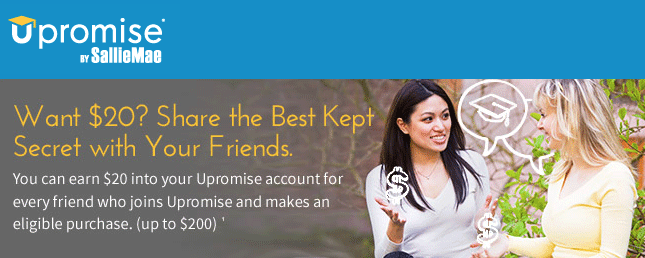 $20 Upromise New Member Bonus
If you need a referral, please feel free to contact Toby at toby.kaplan@gmail.com to request a Upromise referral email.
You may possibly be able to join directly via this Upromise Referral Link from Toby as well, but you may want to contact him to request a referral email instead, as that method is guaranteed to work.
In order to qualify, the new member must make a qualifying purchase of $20 or more within 30 days of opening your new Upromise account.
A qualifying purchase includes making an eligible purchase with any of their 850+ online partners at Upromise.com, making a qualified dine at a participating restaurant location, shopping in-store offers using a registered credit card, and making a purchase using a registered Upromise MasterCard.
Your $20 cash back bonus will be deposited into your Upromise account within 3 months of your first purchase.
Upromise Referral Program Details
Current Upromise members can earn $20 cash back for referring new valid Upromise members.
To get your $20 bonus, you must submit your referral's email address through the link on the invitation page.
Your referral must enroll in Upromise through the enrollment invitation.
Your $20 cash back will be deposited into your Upromise account.
Current members can refer up to 10 new members via this promotion for a total of $200 in rewards.
Learn more about the Upromise Program to start saving money for college for you or someone else.
You may feel free to post your referral info in the comments section below this article to refer new Upromise members.