The free Yelp mobile app is a quick way to find nearby restaurants, bars, coffee, tea, and other food services, plus you can easily place in-app orders for pickup or delivery as well as make reservations directly within the app for participating locations.
Through the Yelp app, you can browse nearby places, view menus, get directions, check-in, write and read reviews, add and view photos, and more.
Plus, the Yelp Refer-A-Friend Program offers new users a $5 discount off your first food delivery or pickup order via the Yelp app, and current users can refer your friends to get a $5 credit for each new user that you refer who places their first order.
Please note that you can also order food for delivery and takeout with the Eat24 Service from Yelp either online or via the Eat24 app with a $5 referral bonus offer available as well.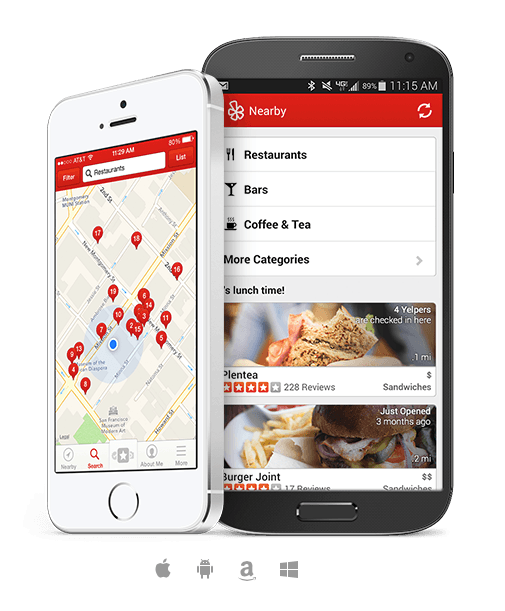 $5 Yelp Discount Code for New App Users
Just click on this $5 Yelp Referral Link that was provided by a reader to download the Yelp App and enter Yelp Coupon Code TP97T during checkout to get $5 off your first delivery or pickup order.
This $5 coupon code is only valid for credit card orders placed through the Yelp app at participating restaurants that accept in-app orders for delivery or pickup.
This offer is for new users only to use toward your first order in the Yelp app.
Yelp Referral Program $5 Rewards
Please note that the Yelp Referral Program is targeted to select users at this time, so not everybody will have access to a referral code.
You may find your Yelp referral link/code within your account section in the app, or it may appear after you place your first order for some users.
I cannot confirm that the same referral reward is available for everybody, but it looks like a "Give $5, Get $5" referral format is the standard offer.
Yelp Referral Details
If you have access to the referral offer, you can give a $5 discount to your friends to use toward their first in-app order.
You'll also get a $5 credit when your friends use your Yelp referral code in the app to save on their first order.
You will automatically get a $5 credit in your account and will be able to apply it at checkout.
Your referral credit cannot be combined with other offers, so it looks like the referral credits are non-stackable.
There is a minimum order of $20 required to apply your referral credit.
Your referral credit will expire 3 months from the issue date.
Please feel free to share your Yelp referral links and any additional information or experiences that you may have in the comments below this article.
You may also be interested in other restaurants delivery services including Delivery.com, Seamless, Bite Squad, DoorDash, GrubHub, and Favor for more savings the next time you order food.