Indochino provides custom online menswear including suits, shirts, blazers, pants, and accessories.
Just visit this Indochino $50 Discount Promotion for new customers to get a $50 discount off your first purchase of $300 or more.
Plus, you can earn up to $5,000 in referral rewards for introducing your friends to Indochino.
Indochino Custom Men's Clothing
Indochino allows you to perform a quick measurement process at home with no tailor required.
You can then order professional and fashionable menswear that is hand tailored.
Indochino will deliver your custom suit anywhere in the world within 4 weeks of ordering.
Indochino $50 New Customer Discount
Just sign up through this Indochino $50 Referral Discount Link to get $50 off your first purchase of $300 or more.
New Indochino customers can get a special promotional code that is good for $50 off your first purchase of $300 or more when you sign up through a current member's referral.
After you click through the above referral link, a special Indochino promotional code will be automatically applied toward your first qualifying purchase within 2 weeks, or you can copy and paste the code during checkout.
Plus, once you create an account with Indochino, you can refer your friends to receive a $50 credit per referral for up to $5,000 in credits toward Indochino purchases.
Indochino Referral Program Details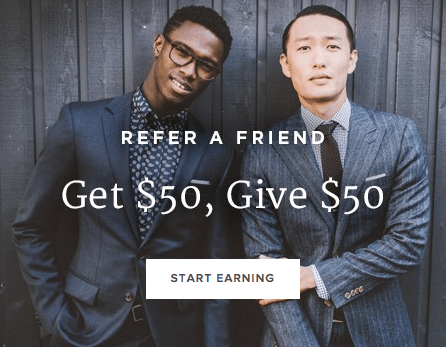 Anybody can participate in the Indochino Referral Program by simply creating an account, regardless of whether you have previously made a purchase with Indochino.
You will earn a $50 credit for each referral who makes their first qualifying purchase on Indochino of at least $300, excluding taxes and shipping charges.
You will receive your $50 credit 30 days after the qualifying purchase is complete.
You can earn a total of $5,000 in credits through this referral program.
Your referral credits can then be used toward future purchases on Indochino.com.
Valid referrals must not have previously made a purchase on Indochino.
Indochino 10% Promotional Code with Newsletter Sign-Up
You can get a 10% Indochino promo code when you sign up for their newsletter.
Just visit their website and enter your email address to join their mailing list.
After you register for their mailing list, Indochino will send you a 10% discount code to use toward your next purchase.
More Menswear Shopping Rewards
Bonobos Men's Clothing – Get $25 off $75 for new Bonobos members toward a variety of men's clothing.
Frank & Oak Men's Clothing – Get $25 off $50 toward men's clothing and accessories from Frank & Oak.
Bombfell Men's Personal Stylist – Get $25 off your first order from Bombfell, the men's personal stylist service.
Dollar Shave Club – Refer your friends for a $5 credit toward monthly shaving blades from Dollar Shave Club.
Order custom menswear online from Indochino with this special promotional code discount for new customers and referral rewards.