simplehuman provides elegantly designed tools for your kitchen and bathroom to make your everyday life run smoother.
Keep your hands clean with touch-free sensor pumps, manage your trash and recycling with dual compartment bins, or organize your shower essentials with wire-frame shelves.
By using the best materials and solid engineering, simplehuman creates products that will withstand years of household use.
simplehuman $10 Off $20 Promo Code
Just visit this simplehuman $10 Referral Link and copy the coupon code that appears in the pop-up display box.
Then use the simplehuman coupon code at checkout for a $10 discount off your first order of $20 or more, excluding shipping and taxes.
To redeem your $10 promo code, enter your code into the coupon/promo code box during checkout on simplehuman.com.
This offer is for new simplehuman customers only to be used for your first online order.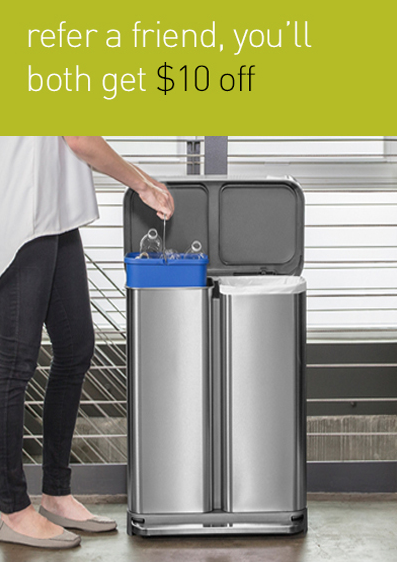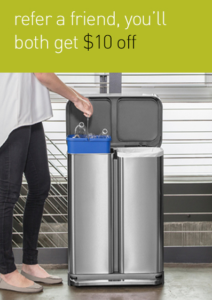 simplehuman Refer-A-Friend Program
Anybody can participate in the simplehuman Refer-A-Friend Program to give your friends $10 off and get $10 off for every friend that makes a purchase.
To share simplehuman with friends, just click the "Refer A Friend" link in the footer of the simplehuman.com website.
Your friends will get an invitation with a promo code for $10 off their first purchase of $20 or more on simplehuman.com.
In order for you to qualify, your referrals must register for an account at simplehuman.com and place their first purchase of $20 or more.
Once your referrals complete their order, you'll receive a promo code for $10 off of your next order of $20 or more (excludes shipping and taxes) at simplehuman.com.
You will receive an email with a promo code approximately 6 days after your friend makes a first qualified purchase from simplehuman.com.
You can only redeem 1 promo code for your referrals at a time, so you can't stack the referral bonuses.
You and your referred friend must live in a different household.
simplehuman customers may feel free to share your product experiences along with your referral links in the comments below this article for other readers to use.
If you are a fan of simple designs, organization and cleanliness, check out simplehuman's product line to enhance your home living experience.
A special thank you goes out to our reader Toby for showing us how to save money on simplehuman products, and you may feel free to use his simplehuman Referral Link to access a coupon code for $10 off your first $20 order.