JustShareIt is a peer-to-peer car sharing marketplace that lets you earn extra money by renting your vehicle or find a ride for less money.
New renters can get a 10% JustShareIt Discount off your first rental in your neighborhood or wherever you're traveling.
JustShareIt is available in many different locations, including featured cities like Los Angeles, New York, San Francisco, San Diego, Chicago, Miami, and Portland.
How JustShareIt Works
Membership in JustShareIt is free, and there are no application fees to get started.
You can rent a car, truck, SUV, or van at JustShareIt with a lot of extra perks, including all-inclusive insurance coverage and roadside assistance.
This on-demand car rental service lets you unlock your vehicle and go with the JustShareIt mobile app, or you can pick up the key directly without any hassles or lines.
Vehicle availability will vary, but most vehicles can be rented by the hour, day, week, or even month.
If you have a vehicle to rent, you can also join JustShareIt's community of vehicle owners and rent your car to qualified members in your local neighborhood when you're not using it.
JustShareIt 10% Discount for First-Time Renters
Simply click on this 10% JustShareIt Discount Link and create your free account to get a 10% discount off your first rental.
You must ensure that the Referral Code L24pIo is entered when you create your account in order to receive your 10% discount.
This 10% discount offer is for first-time renters only.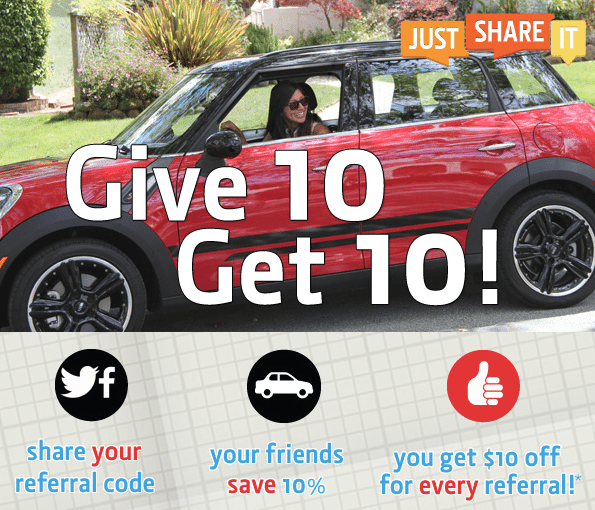 JustShareIt Referral Program Give 10% Get $10
Once you create a free JustShareIt account, you can share your referral code with your friends on Facebook, Twitter, Google+, or Pinterest.
When your friends sign up for JustShareIt, they'll get 10% off their first rental, and you'll get a $10 credit in your account for every friend you refer.
There is no limit to how much you can earn.
You can locate your referral code by logging into your account at JustShareIt.com and clicking on "Settings."
Each person referred must complete a rental of at least 1 day in order for you to receive credit.
Credits are cumulative, and there is no limit on how many credits you can earn.
Your credits will be automatically deducted from your future rentals.
There is a limit of 1 $10 credit per person referred.
You must allow 10 days after your referral's JustShareIt rental finishes for the credit to post to your account.
Take advantage of JustShareIt for discounts on car rentals and to make some extra money by renting out your vehicle.