North Shore Bank now has a $150 new checking account bonus available through November 7, 2015.
North Shore Bank has branch locations throughout Wisconsin, and you may open an account with them if you live, work, attend school, or have immediate family members in Wisconsin or Northern Illinois.
Please note that the incentive credit will not be paid if the promo code is retrieved from a deals website (like this one), and North Shore Bank reserves the right to close customers accounts that do not live within the following counties: McHenry, IL, Brown, WI, Dodge, WI, Kenosha, WI, Kewanee, WI, Manitowoc, WI, Milwaukee, WI, Monroe, WI, Oconto, WI, Outagamie, WI, Ozaukee, WI, Racine, WI, Shawano, WI, Walworth, WI, Washington, WI, Waukesha, WI, and Winnebago, WI.
However, as long as you live in one of the above counties, you can just say that you saw the promotional code being advertised in Google search results, where I found it, and you shouldn't have an issue redeeming this offer.
North Shore Bank $150 Checking Account Bonus – Newest Offer
You'll get $100 when you open a new checking account, plus another $50 when you set up a direct deposit to your new account.
How To Get the $150 Bonus
1. Receive a $100 bonus when you open your checking account online using Promo Code "OCTO­BER 2015" by November 7, 2015, and make an initial deposit.
2. Receive another $50 bonus when you establish a direct deposit by January 31, 2016.
3. The bonus credits will be posted to your new checking account after February 15, 2016.
Just visit this Promotional Link to take advantage of this offer (please note that the landing page redirects to a non-promotional page if you don't open it from the Google ad, but you can see the full offer below).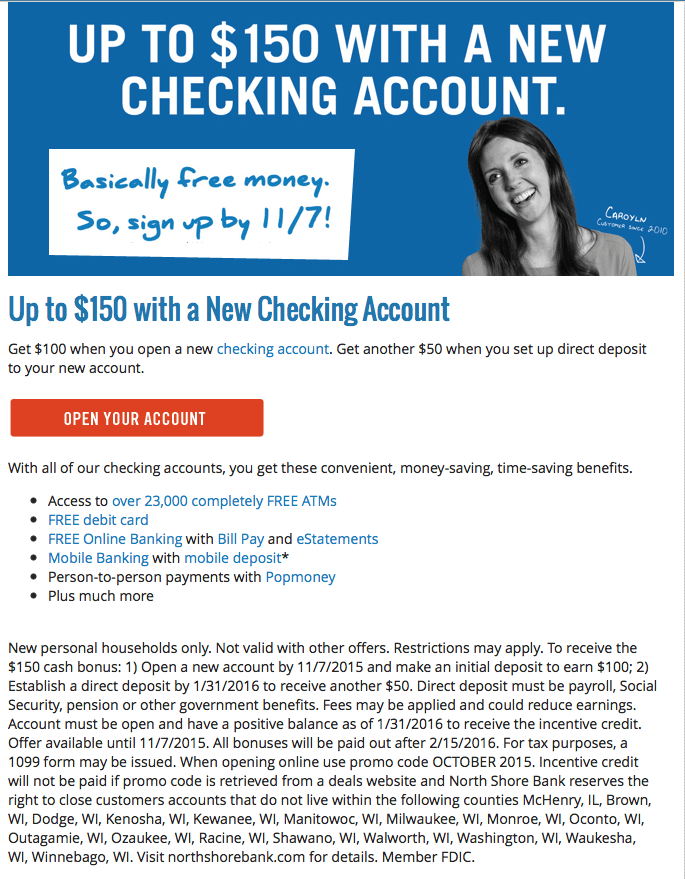 The direct deposit must be payroll, Social Security, pension, or other government benefits.
There is a limit of 1 new checking bonus per household per year.
This promotion is not valid with other bonuses.
This offer is for new personal households only.
I personally opened a Better-Than-Free checking account, which allows you to avoid the monthly fee with a $750 balance.
EXPIRED – North Shore Bank $150 Checking Account Bonus – Standard Offer
Check out this North Shore Bank Checking Promotion to get up to a $150 bonus when you open a new checking account.
To receive a $150 bonus, your account must be opened by September 30, 2015.
You must use the Promo Code "August 2015" when you open your account.
You must make 10 debit card transactions OR 1 direct deposit each month.
A $10 bonus will be deposited into your account every month for 15 months when you meet the debit card transaction OR direct deposit requirement for a total of $150 in bonus rewards.
The debit card or direct deposit bonus of $10 will be credited to the new checking account each month after your statement cycles for up to 15 months provided you have had 10 qualified debit card transactions or a direct deposit for that statement cycle.
The incentive payments and transaction requirements are based on statement cycles.
Transactions must post to the account prior to the statement cycling to qualify, beginning with the October 2015 statement cycle.
ATM/PIN transactions will not qualify.
There is a limit of 1 new checking bonus per household per year.
This offer is available for new personal account households only.
This offer is not valid with other offers.
North Shore Bank Checking Account Details
Monthly fees will be waived for the first 3 months on all checking accounts.
With eChecking, you can avoid the $4.95 monthly account fee with debit card usage and eStatements OR a direct deposit (wages or social security) and eStatements.
With Better-Than-Free checking, you can avoid the $4.95 monthly account fee with a $750 average balance OR $2,500 in relationship balances OR any loan OR a direct deposit OR 10 debit card transactions.
North Shore Bank also offers Perks, Senior, and Platinum checking accounts with higher fees and other requirements.
Review these additional Bank Bonus Rewards for more checking account deals.
Take advantage of this North Shore Bank promotional offer in Wisconsin.