Get $120 Varo Account Bonus: New users can get a $120 cash bonus when you open a Varo account and deposit only $25. To access this offer, open a Free Upromise Account, which is a cash back network similar to Rakuten, and then visit the "Offers" section to find this Varo deal. When you open a new Varo account and deposit $25, you'll earn a $120 cash back bonus from Upromise. The $120 cash back will be credited to your Upromise account, which can be transferred directly to your checking/savings account. It's free to join Upromise, and anybody can join (you don't need to be a student), so this is a great opportunity to earn $120 for joining Varo. You'll also earn an extra $5.29 bonus for verifying your email address with Upromise as well.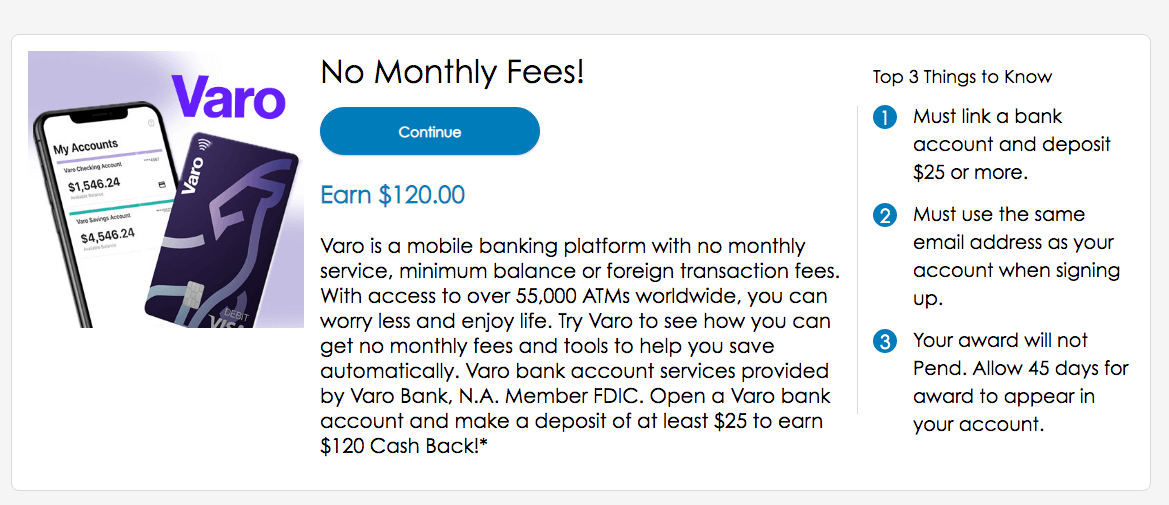 Varo offers a fee-free mobile banking solution with all-in-one access through the Varo App to a free checking account, free debit card, high-APY free savings account and even personal loans.
Varo allows you to manage all of your basic financial needs within a single platform and replace your traditional bank account.
The Varo App is now available for both iOS and Android devices at this time.
Varo Bank Account Features
Varo Bank Account – Fee-Free Mobile Checking Account with Free Debit Card.
Varo Visa Debit Card – You Can Make Purchases Anywhere Visa is Accepted, and Your Varo Card is Secured through the Visa Zero Liability Policy.
Varo Savings Account – High-APY Savings Account with No Monthly Fees. Balance must be at least $0.01 to earn interest.
Boost Your Varo Savings Rate – Even Higher APY Savings Account if You Meet Qualifications. The Savings Account balance must be $50,000 or less and the customer must meet both of the following requirements: Receive payroll or government direct deposits totaling at least $1,000 each month into the Varo Bank Account; Use the Varo Visa Debit Card to authorize at least 5 purchases each month (excluding ATM or Over-the-Counter Cash Withdrawals and P2P transfers).
Varo Personal Loans – Apply for a Personal Loan with Just a Few Steps in the App.
Fee-Free Banking – You Do Not Pay Any Banking Fees with Varo.
All-In-One Banking Solution – View All of Your Accounts in a Single Location for Better Financial Management.
Varo Forecast – View Your Current Financial Status at Any Time to See if You Have Enough Funds to Cover Bills and Other Needs.
Budgeting – You Can Set Financial Goals and Track Your Spending.
Recommendations – Varo Will Give You Personal Recommendations to Help You Save More Money.
Early Direct Deposit – Get Paid up to 2 Days Early.
Bank Transfers – Easily Move Your Money In and Out of Varo.
Mobile Check Deposit – Deposit Checks Quickly from Your Phone.
Easy Money Transfers – Link Square, PayPal, and the Cash App to Transfer Funds.
Deposit Cash – You Can Deposit Cash into Your Varo Bank Account at Participating Retail Locations Nationwide (merchant fees apply).
Free ATMs – You Can Access Fee-Free ATMs at 55,000+ AllPoint Locations.
Apple Pay – You Can Use Varo with Apple Pay or Apple Pay Cash.
Transaction Alerts – Get Notifications about Your Varo Account Activity.
Direct Debit – You Can Pay Bills Online with Your Varo Account Information.
Send Paper Checks – Varo Will Mail Any Check for You.
Bill Pay Calendar – Stay on Top of Your Bill Due Dates.
Security – Your Varo Account Deposits are Insured for at least $250,000 through The Bancorp Bank, Members FDIC.
Varo Customer Support – Customer Support Agents are Available to Answer Your Calls from Monday through Friday, 6:00 AM to 9:00 PM, and from Saturday through Sunday, 8:00 AM to 6:00 PM PST
To open a Varo Bank Account, you simply download the Varo App from VaroMoney.com (non-referral link) and sign up in a few simple steps.
Varo Referral Program $50 Bonuses for Both Parties
If you are a current Varo Bank Account member, you may participate in the Varo Referral Program to earn up to a maximum of $500 (per lifetime) when you refer your friends to join Varo, and your friends will also receive a special bonus when they open a new Varo Bank Account using your referral.
This Varo referral promotion is available to eligible members in the Android and iPhone apps, and you can find your unique link in your app on the Dashboard screen if you have an iPhone, or in Settings > Invite Friends if you have an Android.
If you have an open Varo account and are eligible for the referral program, you will get access to your own unique referral link that allows you to share a special $50 bonus with your friends when they open a new Varo Bank Account, and you'll receive a $50 bonus for each new customer that you refer who meets the qualifications.
To qualify, the referee must register their email address using the referring Varo member's unique link, open a Varo Bank Account using the same email address, and then spend $20 on their Varo debit card within 30 days of opening their new account.
Bonuses will be deposited into both the Varo member and referee's Varo Bank Accounts within 7 days of qualifying.
Varo members may qualify for up a maximum bonus total of $500 per lifetime.
The referee must be a new Varo member with no prior Varo accounts.
If you're looking for a fee-free mobile banking solution to control all of your basic financial needs in a single location, take advantage of the Varo App to get an all-in-one solution for your banking needs.