TIAA-CREF will add a bonus credit of up to $600 to your new or existing IRA account when you move your retirement savings into a TIAA IRA.
Plus, the $200 or $600 in extra bonus money that you earn will not count toward your annual IRA (Individual Retirement Account) contribution limit.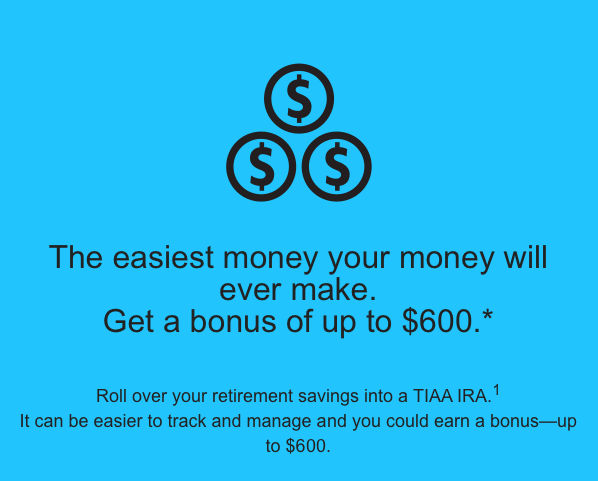 This Promotional Offer is valid for both new and existing IRA customers with TIAA-CREF, as long as you add qualifying funds to your new or existing account.
You can open a new IRA or roll over funds to an existing IRA by calling TIAA-CREF at 1-844-347-5472.
If you are more interested in investing in a non-retirement account at this time, you may wish to review TD Ameritrade and Fidelity for their brokerage account promotions.
How To Qualify for TIAA-CREF IRA Bonus up to $600
1. This offer is valid for Traditional and Roth IRAs when you either:
Open and fund a new retail Brokerage IRA or a Portfolio Advisor IRA, OR
Fund an existing retail Brokerage IRA or Portfolio Advisor IRA with TIAA-CREF.
2. In order to qualify, you must open a new IRA or fund an existing IRA between June 20, 2016, and November 30, 2016.
3. You will earn a $200 or $600 bonus, based on the total amount of funding to your account.
Transfers of $50,000 to $149,999 = $200 Bonus.
Transfers of $150,000 or more = $600 Bonus.
4. All required funds must be rolled over to your new or existing account and remain in the account through November 30, 2016, less any required minimum distribution payments made and any asset-based fees charged to your account.
5. If you qualify, your IRA will be credited with the applicable bonus amount around February 1, 2017, and your IRA must be open at that time in order to receive the bonus credit.
TIAA-CREF Promotional Details
Investment Solutions IRAs do not qualify to receive the bonus.
The IRA must be funded from 1 or more external sources using any standard monetary transfer method (e.g., by check, Electronic Funds Transfer, etc.) or by rolling over funds from 1 or more external retirement accounts.
Funds currently held at TIAA do not qualify for the bonus.
This promotion may not be combined with any other offers, and it is limited to 1 bonus per customer.
Offer is not valid for non-U.S. residents, persons affiliated with FINRA, a securities exchange or its members, employees of TIAA, its affiliates, or the media.
Just move your retirement savings into a TIAA IRA, and you could get a bonus of up to $600 added to your account.
Employees of select companies can qualify qualify for extra cash with a checking or savings account from TIAA Direct.
You may also be interested in this IRA promotion from Merrill Edge to earn additional bonus cash toward your retirement savings.