Glamsquad is an on-demand beauty service that provides you with private appointments at your home or office for hair styling, makeup, and nails in New York, Los Angeles, and Miami.
Just sign up via this Glamsquad $25 Discount Link to get $25 off your first booking of a beauty appointment today.
If you need to look your best for a wedding, party, appointment, interview, vacation, or any other big event, you can use Glamsquad to book a professional beautician to provide on-demand services in your home or office.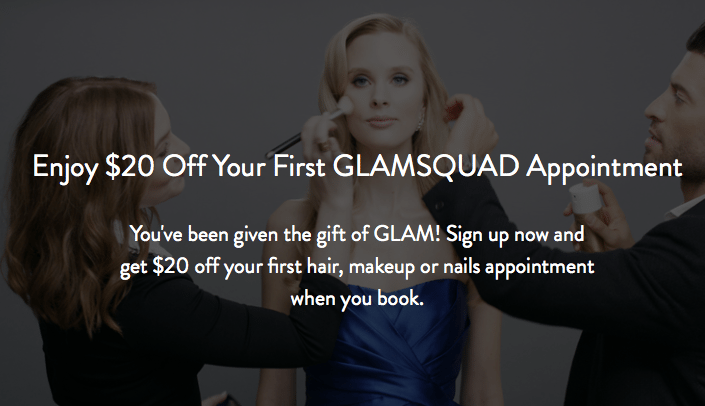 Please note that the Glamsquad promotional credit has been increased from $20 to $25 now.
If you don't live in New York, Los Angeles, or Miami, then you may also wish to try Whittl for on-demand salon services in many different cities.
Glamsquad $25 Discount for New Customers
New users can sign up with this Glamsquad $25 Promotional Link to get a $25 discount off your first beauty appointment.
You can sign up now and get $25 off your first hair, makeup, or nails appointment when you book an appointment through Glamsquad.
This offer is for new users only to use toward your first booking on Glamsquad.
Glamsquad Refer A Friend Program $25 Credits
The Glamsquad Referral Program allows current users to give new users a $25 discount off their first appointment, while current users can earn a $25 credit for each new user that you refer.
Just invite friends to Glamsquad by sharing your personal referral link.
For each friend that books a beauty appointment via your referral, you will earn a $25 credit that you can use toward a future appointment booking.
Your referrals will also get $25 off their first booking, so everybody benefits with savings on beauty services.
Your Glamsquad referral credits are added to your account for each qualified new user that you refer.
Referral credits can be stacked and combined, so you can qualify for free beauty services once you earn enough credits.
There is no limit to how many referral credits you can earn for referring your friends to use Glamsquad.
Book an appointment with Glamsquad for on-demand beauty services that will help you look your best for any occasion.
You may also be interested in GlossyBox to get beauty products delivered to your home each month.