Check out these free Veterans Day promotions that are available for military members in 2021.
Get free meals at popular restaurants as well as other free giveaways from various merchants.
Depending on the specific offer, you'll have to provide some type of proof that you are an active-duty or retired military member, so review the details closely.
Get these free offers for the military on this Veterans Day, Thursday, November 11, 2021, although many events also take place on other days around Veterans Day.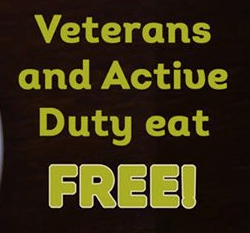 2021 Free Veterans Day Promotions
1. Free National Park Entrance – Free entrance on November 11, 2021.
2. BJ's Restaurant & Brewhouse – All current and former military can enjoy a free entree and a free Dr Pepper beverage on November 11, 2021.
3. Romano's Macaroni Grill – Romano's Macaroni Grill will offer a free Mom's Ricotta Meatballs + Spaghetti entrée this Veteran's Day at all U.S. locations (excluding Hawaii, Puerto Rico, airport and international locations). All veterans and active military can enjoy this complimentary meal simply by presenting military ID or proof of service.
4. Dunkin' Donuts – Anyone who shows a military ID at participating Dunkin' Donuts restaurants nationwide will be offered a free donut of your choice with no purchase necessary.
5. Chili's – Free meal to Veterans and Active Military Personnel at all participating Chili's Grill & Bar restaurants.
6. McCormick & Schmick's – McCormick & Schmick's invites Veterans to enjoy 20% off your meal when you dine-in on Veterans Day.
7. Applebee's – All veterans and active duty military are invited to visit their local Applebee's on Veterans Day to enjoy a free meal. Check your local Applebee's for specific details about the promotion being provided.
8. Golden Corral – Any person who has served in the U.S. Military (retirees, veterans, active duty, National Guard or Reserves) can join Golden Corral for Military Appreciation Night to get a free meal.
9. Free Car Wash – Grace For Vets offers free car washes for veterans and service personnel on Veterans Day.
10. Free Bed & Breakfast Stay – Stay at B&Bs free on and around Veterans Day. Most of the inns are offering 1 free room night, so you can enjoy the local Veterans Day celebrations.
11. Max & Erma's – Free Best Cheeseburger in America for veterans and active military, including a 1/2 lb hand-crushed cheeseburger, endless seasoned fries and a fountain drink, valid at participating locations.
12. Texas Roadhouse – Active, former and retired military can enjoy a free lunch on Veterans Day. Call your local Texas Roadhouse for details.
13. California Pizza Kitchen – California Pizza Kitchen will pay tribute to veterans and active duty members of the U.S. military this Veterans Day by offering them a complimentary entrée from CPK's special Veterans Day menu at all participating California Pizza Kitchen locations nationwide.
14. Denny's – Free Build Your Own Grand Slam for Veterans and Military Personnel on Thursday, November 11, 2021, from 5:00 AM to Noon.
15. LaMar's Donuts – Free donut and 12 oz. coffee for all veterans and active military personnel.
16. Mission BBQ – Free sandwich at all locations for all Veterans and active duty military personnel.
17. Red Lobster – In honor of Veterans Day, Red Lobster is offering a free appetizer or dessert to veterans, active duty military and reservists with a valid military ID.
18. Shoney's – Free all-you-care-to-eat freshly prepared breakfast bar from Open to 11:00 AM on Thursday, November 11, 2021.
19. TravelCenters of America – Veterans and Active Military eat a free meal on Thursday, November 11, 2021, at any TA, Petro, or TA Express location.
20. Great Clips – Free haircut for all active, inactive, retired, and reserve members of the military. Must visit Great Clips on November 11, 2021, but can be redeemed by December 10, 2021.
21. Knott's Berry Farm – Eligible Active, Veteran and Retired U.S. Military Personnel may purchase discounted admission for themselves and up to 5 additional people from November 1-18 and November 29-December 16, 2021.
22. Waves of Honor – Free theme park tickets for military members.
23. Superdawg Drive-In – Veteran and Active-Duty Military Personnel can get a FREE Supermeal on Veterans' Day.
24. IHOP – Free Red, White and Blueberry Pancakes to Veterans and Active Duty Military on Thursday, November 11, 2021, from 7:00 AM to 7:00 PM. Participation varies. Dine-in only. 1 per veteran/active duty with proof of service.
25. The Greene Turtle – Free entree for up to $12 in value on Veterans Day.
26. Little Caesars – Free lunch combo for veterans on Thursday, November 11, 2021, from 11:00 AM to 2:00 PM. Includes 4-slice DEEP!DEEP! pizza with pepperoni and one 20 oz. Pepsi-Cola product. In-store only.
27. Dairy Queen – Enjoy a free Veterans Day Blizzard for all veterans and active duty military personnel with a complimentary medium Blizzard on November 11, 2021. Valid military ID or proof of service is required, or you can wear your uniform. Dine-in only. No carryouts. Locations may vary, please call ahead to confirm.
Please feel free to post additional free Veterans Day offers in the below comments, and I'll update this list accordingly.
Thank you for your service.