PillPack is a revolutionary online pharmacy that is designed around your life and delivers all of the medications you need in pre-sorted packages directly to your door.
Just sign up for a Free PillPack Account to make taking your medications a lot easier and help you maintain healthy life habits.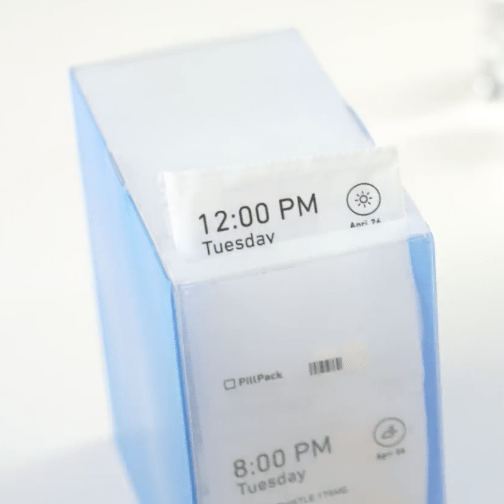 About PillPack Pharmacy Service
PillPack takes the hassle out of taking meds by providing your medications, sorted and delivered to your door, so that you'll never have to wait in line at the pharmacy again.
All of your medications will arrive in pre-sorted pill packages that are stamped with the time and date you need to take them.
That means you'll always have the right medications in the right dosage at the right time, so that you never miss taking your meds again.
PillPack will provide you with regular refills every few weeks as needed, so you never run out of your medications.
The PillPack service is free to use with no additional costs over the price of your meds, and shipping is always free.
PillPack is compatible with most major health insurance plans, so you'll only pay your standard 30-day co-pays with no other hidden fees.
The best part of all is that if you click through this PillPack Referral Link and sign up for a PillPack account, PillPack will donate $100 to the nonprofit RxArt organization to help sick children heal through the power of visual art.
PillPack Online Pharmacy Features
Pre-Sorted Pills – They package your prescriptions and OTCs by the dose, and label each package with the date and time you need to take them.
As-Needed Medications – If you need medications that you don't take on a scheduled basis, they will send them in a separate bottle.
Medications of All Types – They send inhalers, creams, and refrigerated items like insulin.
Discreet Packaging – Shipments arrive in secure and unmarked boxes.
Never Hassle with Insurance – PillPack will call your provider for you.
Automatic Refills – PillPack automatically ships refills for your medications every few weeks, so you'll never run out.
Avoid Doctor's Office Calls – PillPack will call your doctor for prescriptions when needed.
Guaranteed Accuracy – Every package is verified through computer vision and by pharmacists for guaranteed accuracy and safety.
PillPack Service is Free – You only pay your co-pays.
Mobile App – Get reminders about your medications and chat with pharmacists on your phone.
Transparent Billing – See exactly what your medication costs, what insurance covers, and if you owe any of the difference.
$100 RxArt Donations – PillPack will make a $100 donation to RxArt for every person that you refer to PillPack.
How To Join PillPack and Make $100 RxArt Donation
1. Click through this PillPack Referral Link (using this referral link ensures a $100 donation will be made to RxArt for hospitalized children).
2. Click the "Get Started" button on their website to create your account.
3. Tell PillPack about your medications and insurance.
4. PillPack will transfer your prescriptions to the PillPack pharmacy.
5. PillPack will delivery your medications every few weeks at no extra cost.
Only account sign-ups that are started through a referral link will result in a $100 donation, and there is no cost to you to use a referral link, so if you plan on using the PillPack service either way, then you might as well help out RxArt in the process.
Please note that I will not earn any type of reward if you use the referral links in this article (and neither will you), but each person who signs up will result in a $100 donation to RxArt.
I'm hoping that we can really raise a lot of funds for RxArt through this article, and if you do use the referral link to create a PillPack account, please leave a comment below this article to let us know you helped out.
About RxArt Nonprofit Organization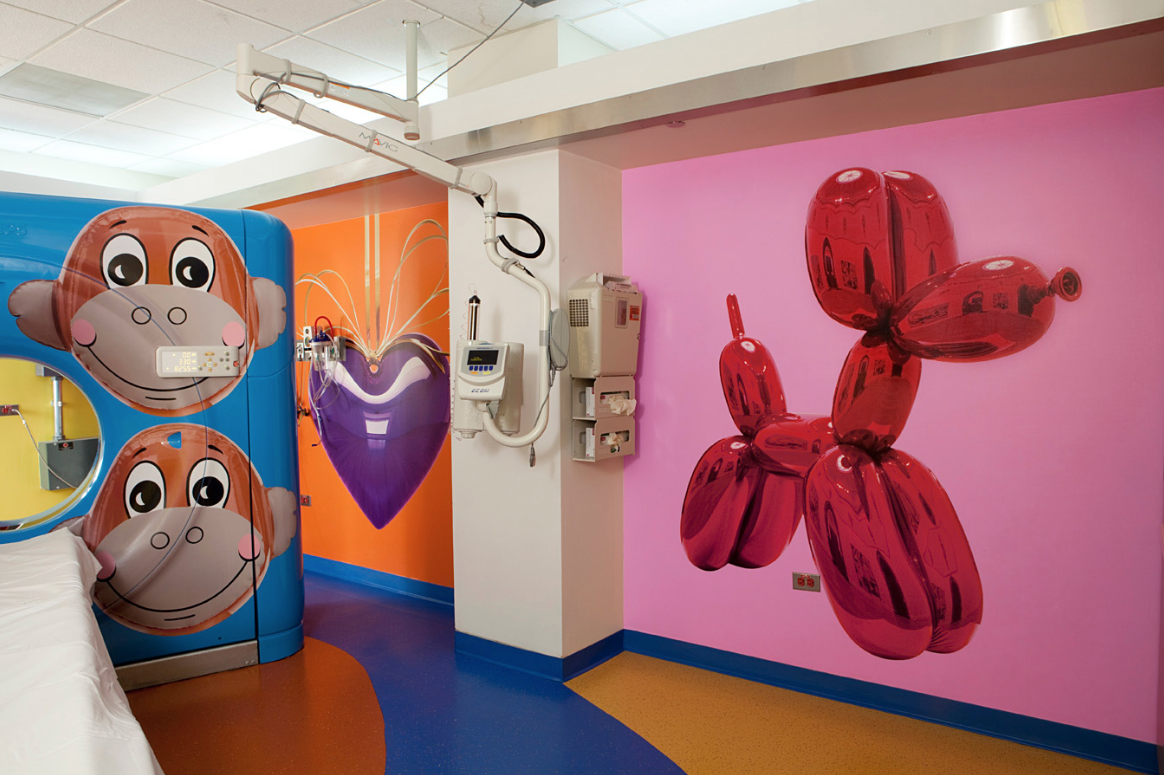 Above photo taken from an RxArt installation by world-renowned pop artist Jeff Koons at Advocate Children's Hospital in Oak Lawn, Illinois.
RxArt's mission is to help children heal through the extraordinary power of visual art by transforming sterile healthcare facilities into engaging and inspiring environments.
RxArt commissions contemporary visual artists who create beautiful, humorous, and comfortable environments out of sterile healthcare facilities to engage and inspire sick children toward better healing.
Visit RxArt.net for more details about this nonprofit organization.
PillPack Refer A Friend Program for $100 RxArt Donations
The PillPack referral program allows anybody to spread the word about this unique pharmacy service and help make donations to the RxArt organization.
For every person that you refer who signs up for PillPack, they will donate $100 to RxArt.
You can refer as many friends as you want to help make unlimited donations to RxArt.
Just visit PillPack.com to access their referral form via the "Refer a Friend" link in the footer of their website.
You can sign up as a PillPack Ambassador, without having to create an actual PillPack account, which will then give you access to various referral sharing options, where you can obtain your unique referral link.
You can otherwise simply tell your friends about this article, so that they can start their PillPack account here and help donate $100 to RxArt.
If you regularly need medications, then you may also wish to check out the Blink Health service for discounts on prescription drugs.