Aspiration offers simple, fair and ethical banking and investing services for socially-conscious and environmentally-friendly consumers.
Updated 6/21/2019 – $120 Bonus Available for New Aspiration Accounts: You can get a $100 bonus directly from Aspiration for opening a Spend & Save Account and setting up a direct deposit, plus you can get an extra $20 reward when you sign up for Aspiration through the Swagbucks rewards site.
How To Get $120 Aspiration Bonus
1. Open a new Swagbucks Account or log in to your current account (new Swagbucks users can get $10 additional bonus after $25 in spending at participating stores).
2. Once you log in to Swagbucks, simply perform a search for the term "Aspiration" to find the special $120 bonus deal as pictured below ($100 from Aspiration and $20 from Swagbucks).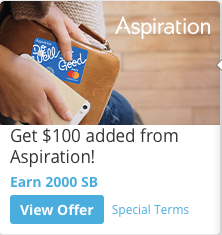 3. Click on the "View Offer" button on that deal within the Swagbucks website to be redirected to the offer on Aspiration.com (you will see text displayed at the top of Aspiration.com that reads, "Get $100 when you set up direct deposit").
4. By July 31, 2019, you must open and fund an Aspiration Spend & Save Account with a deposit of $10 or more.
5. By September 30, 2019, you must set up and make an electronic direct deposit of your paycheck, pension or government benefits (such as Social Security) from your employer or the government.
6. Allow up to October 18, 2019, for the $100 offer credit to post to your Aspiration Spend & Save Account, which must be open and in good standing.
7. Your $20 from Swagbucks (2,000 SB) will be credited within 60 days after you complete the offer.
8. You can redeem your 2,000 Swagbucks for $20+ in gift card rewards including Visa Debit Cards (Visa $10 Reward Card is currently on sale for 990 SB).
This offer is only valid for new Aspiration customers. In addition, please note that while the terms of the offer on the Swagbucks website indicate it runs through July 31st, the terms on the Aspiration landing page indicate it runs through June 30, 2019. I would expect Aspiration to update their terms when the month ends to match Swagbucks, but this is worth noting when you apply. A special thank you goes out to Doctor Of Credit for alerting us to the availability of this deal through Swagbucks.
If you cannot set up the direct deposit, you may wish to consider the $25 Aspiration bonus that is outlined below, which only requires a $10 minimum deposit and no direct deposit needed to get the $25 bonus.
Sign up for this $25 Aspiration Spend & Save Account Promotion to get a $25 cash bonus and $25 charitable donation when you deposit $10 into your new account.
The Aspiration Spend & Save Account offers up to a 2% APY on your entire Save account balance with no ATM fees worldwide.
You'll also earn cash back rewards on your purchases as well as bonus rewards for spending at socially-conscious businesses.
Best of all, your deposits don't fund fossil fuel projects, so you don't have to worry about your money working against your beliefs.
On top of that, you get to choose your own monthly fee for your Aspiration Spend & Save Account, even if you choose to pay nothing.
In addition to the Spend & Save Account, Aspiration offers investing products and retirement accounts, so that you can maintain an ethical financial portfolio across the board.
$25 Aspiration Spend & Save Account Bonus
1. Visit this $25 Aspiration Referral Link to get started by July 31, 2019.
2. Confirm your email address.
3. Open your new Aspiration Spend & Save Account.
4. Make a minimum deposit of $10 to qualify.
5. Submit your application and get approved in 15 seconds.
6. Receive $25 cash and donate $25 to the charitable cause of your choice.
$25 Aspiration Promotional Terms
You must open a funded Aspiration Spend & Save or Aspiration Save Account by 11:59 Pacific Time on 7/31/2019.
To receive the $25 "Do Good" dollar credit, accounts must be open and in good standing for a minimum of 10 business days.
Referral "Do Good" credits take about 3 weeks to be credited in total from the date of account opening.
To receive the $25 referral cash credit, accounts must be open and in good standing through the date of the credit.
Allow up to 8 weeks for the cash referral credit to post.
Investment funds do not qualify for this promotion.
Aspiration Referral Program $25 Bonuses
For every new customer that you refer who opens an Aspiration Spend & Save Account, you will both earn a $25 cash bonus and a $25 free donation to the charitable cause of your choice.
You can earn cash referral credits of up to $1,000 per person per month for this promotion.
Please note that while you get to choose the charity, Aspiration is actually making the donation.
Therefore, you will not be issued a donation receipt or a 1099 (you may receive a 1099 for your cash earnings from referrals).
You can access your unique Aspiration referral link and other sharing options by clicking the "Invite Friends" option within your Dashboard.
Aspiration Spend & Save Account Details
The Aspiration Spend & Save Account is a cash management account that offers up to a 2% APY on the entire balance in your Save account.
Earn Cash Back Rewards on Every Purchase.
Get Bonus Rewards at Socially-Conscious Businesses.
No ATM Fees Worldwide.
Up to 2% APY on Entire Save Account Balance.
Cell Phone Protection Insurance.
Your Deposits Don't Fund Fossil Fuel Projects.
You Choose Your Own Monthly Fee – Even if it's Zero.
Aspiration Investment and Retirement Products
Aspiration offers professionally managed funds that are 100% fossil fuel free.
There is a $10 minimum opening deposit to get started for both investment and retirement products.
Check out Aspiration if you want to support worthwhile charities, participate in the Aspiration referral program, and share banking and investment opportunities with your friends.
Please feel free to exchange Aspiration referrals in the below comments as well as your experiences with using their service.