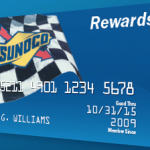 Exclusively from Maximizing Money, the Sunoco Gas Credit Card is offering new members 25 cents off per gallon for your first 60 days.
Sunoco was kind enough to provide Maximizing Money readers with an exclusive promo code that can be used when you apply for the Sunoco card to qualify for 25 cents off per gallon for the first 60 days, instead of the standard 5 cents per gallon discount that is always provided to card members.
Find out how to get 25 cents off per gallon for 60 days with the Sunoco Gas Rewards Card to save money on your Sunoco gas purchases.
You may also be interested in this Business Gas Rebate Card to earn cash rewards on all of your business purchases including gasoline.