Kapitall brokerage accounts now offer fee-free IRAs with no trade commissions and Robo Portfolio accounts with no advisory fees until 2016.
It's free to open a Kapitall investing account, and there are no account maintenance fees or minimum balance requirements to avoid any fees.
To access these offers, just create a new Kapitall account or log in to your existing account, and then click on the "Open a Kapitall Live Account" option, where you'll see these promotions listed.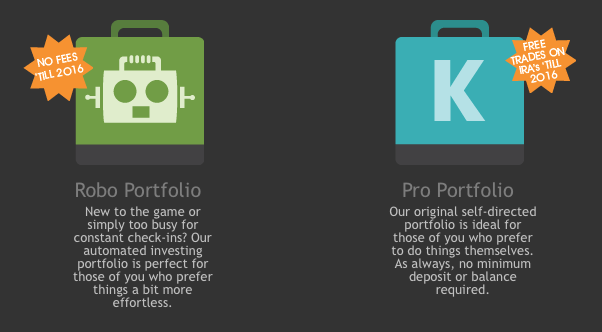 Please note that the fine print for these offers indicates that they expired on March 31st, but I have contacted Kapitall, and they indicate that both offers have been extended for accounts opened through December 31, 2015.
You can Chat with Kapitall before opening your IRA or Robo Portfolio to ensure that these special offers are still available.
Kapitall IRAs Fee-Free with No Commissions until 2016
Open a Kapitall IRA to get free trades until 2016 with no minimum deposit or balance required.
The commission-free IRA trades promotion is limited to 30 commission-free trades per eligible account per calendar month on fully executed commission-based trades.
The free trades start when you open your account until the end of trading on December 31, 2015.
Unused commission-free trades do not accumulate or transfer to the following month.
Eligible accounts are new Traditional IRAs, Roth IRAs, or Rollover IRAs opened between January 1, 2015, and December 31, 2015.
Commissions will be removed from eligible trades within 2 business days.
This offer is applicable only to orders of equity securities and ETFs on U.S. exchanges.
Kapitall IRAs are available as both a Robo-Advised or Self-Directed account.
Kapitall Robo Portfolio No Advisory Fees until 2016
Kapitall's new Robo-Advised Accounts are automated algorithmic-driven advisory solutions for people who aren't looking to invest on your own.
These Kapitall Robo Portfolios are carefully crafted based on your risk tolerance, the time you have to invest, and centered around your passions in life.
To qualify for the special rate of no advisory fees until 2016, simply open a Kapitall Robo Portfolio account before December 31, 2015.
The special rate is applied to your Kapitall Robo Portfolio account starting the date you open it and ending December 31, 2015.
Applicable commissions and trading costs, including those involved in the purchases or sales of ETFs, are charged by KapGen and are separate from standard advisory fees, which are waived for the same promotional period.
Kapitall Robo Portfolios are offered through WealthyX LLC, an SEC registered investment advisor, which was chosen by Kapitall to provide asset allocation, portfolio construction, and monitoring services for the Kapitall Robo Portfolios.
About Kapitall
Founded in 2008 by video game entrepreneur Gaspard de Dreuzy and financial technologist Serge Kreiker, Kapitall integrates the gaming experience with online trading.
Jarrett Lilien, former ETRADE President and COO, joined the team as CEO in 2012, further establishing Kapitall as a leading investing platform.
Kapitall provides an intuitive and playful user experience where you can learn about the market, research stocks and funds, share investing ideas, and build virtual and real brokerage portfolios.
Interacting with company stocks via Kapitall is as easy as drag, drop, and trade.
Once you click Join Now on the Kapitall website, you must provide your name, password, and email address, and then they send you a confirmation email.
Kapitall Brokerage Fees
There is no minimum deposit required to open or maintain an online trading account with Kapitall.
There are no account inactivity fees and no account maintenance fees.
Kapitall Generation offers a standard rate of $7.95 per trade.
An order executed in multiple transactions on the same day will be charged 1 commission.
An order executed in multiple transactions over multiple days will be charged a separate commission for each day.
Separate orders executed on the same day for the same security are subject to separate commission charges.
Kapitall Fee Schedule as of March 13, 2014:
Commission (online) – $7.95
Account inactivity fee – $0
Account maintenance fee – $0
ACH transfer in – $0
ACH transfer out – $0
Returned ACH – $35
Incoming wire transfer – $0
Outgoing wire transfer – $30
Returned wires – $30
Check request – $20
Returned checks – $35
ACAT transfer in – $0
ACAT transfer out – $50
Stock certificate deposit processing fee (per certificate) – $80
Stock certificate delivery fee – $80
Paper confirmations and statements – $5
Paper statements or any electronic statements requested that are older than 2 yrs – $5
Tax document requests by fax and regular mail – $5
Voluntary reorganization – $30
Outgoing transfer – $50
UNCOL/INSF FUNDS check – $35
Overnight check delivery – $25
Overnight check/Saturday delivery – $30
Mandatory reorganization – $0
Accommodation transfer and ship – $80
Foreign settlement fee – $75
Confirm paper fee – $5
Statement paper fee – $5
Rep-assisted trades (trade placed by phone) – $30
You may also be interested in this Motif Investing Account Promotion if you are interested in alternative investment platforms.
Get a Kapitall brokerage account today.