Servy is a restaurant mystery dining app that rewards qualified diners with up to $25 in cash reimbursements for providing restaurants with private feedback about your dining and delivery experiences.
Just download the Servy App for iOS or Android to join Servy's exclusive community of frequent diners and hospitality experts that get paid for providing evaluations about your experiences at local restaurants.
You'll receive up to $25 per evaluation as a cash reimbursement toward part of your meal for giving private feedback to restaurants.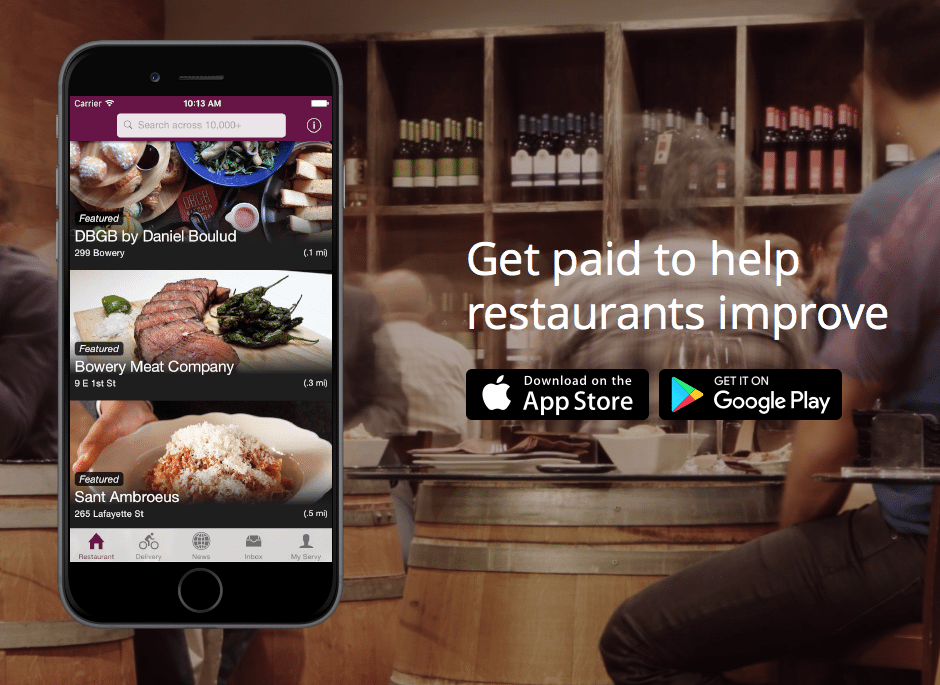 About the Servy Mystery Dining Service
Servy offers many paid restaurant dining opportunities at featured restaurants in New York City as well as Chicago, Washington D.C., Maryland, Philadelphia, New Jersey, San Francisco, and other major cities.
Besides those paid opportunities at featured restaurants, you can evaluate almost any restaurant in the U.S.A. to qualify for charitable meal donations to local food banks, so even if you don't live in a city with featured restaurants, you can still help feed the hungry by using the Servy App.
You simply provide feedback on the restaurant's service, food and beverage quality, and atmosphere to get paid for your honest review.
Your participation is private, so you do not tell the restaurant that you are completing a Servy review, and you simply visit the restaurant or order delivery as you normally would.
You can even feel free to bring your friends along, but only 1 evaluation per receipt/table is allowed.
For your participation, you'll receive a partial cash reimbursement on your order of up to $25 per restaurant visit, depending on the location.
Your cash reimbursements will be paid out to you once you have earned $20, and you can redeem your earnings via Venmo, PayPal, or Chase QuickPay.
How the Servy Secret Diner App Works
1. Simply download the Servy App for iOS or Android and provide a few details about why you would make a good restaurant reviewer to get approved.
2. After you are approved (usually takes less than an hour), you can select from your choice of various restaurant locations where you would like to dine out or get delivery.
3. Then you go to the restaurant to dine in or place a delivery order that meets the minimum order requirement (usually slightly more than the reimbursement reward).
4. After your dining or delivery experience, you must check in with a picture of your eligible itemized receipt within the required period of time (usually within several hours).
5. You must then complete your evaluation and provide private feedback to the restaurant to help them improve within a required amount of time (usually 48 hours).
6. For providing your feedback, you'll receive up to $25 in cash reimbursements, and Servy will donate a meal to charity.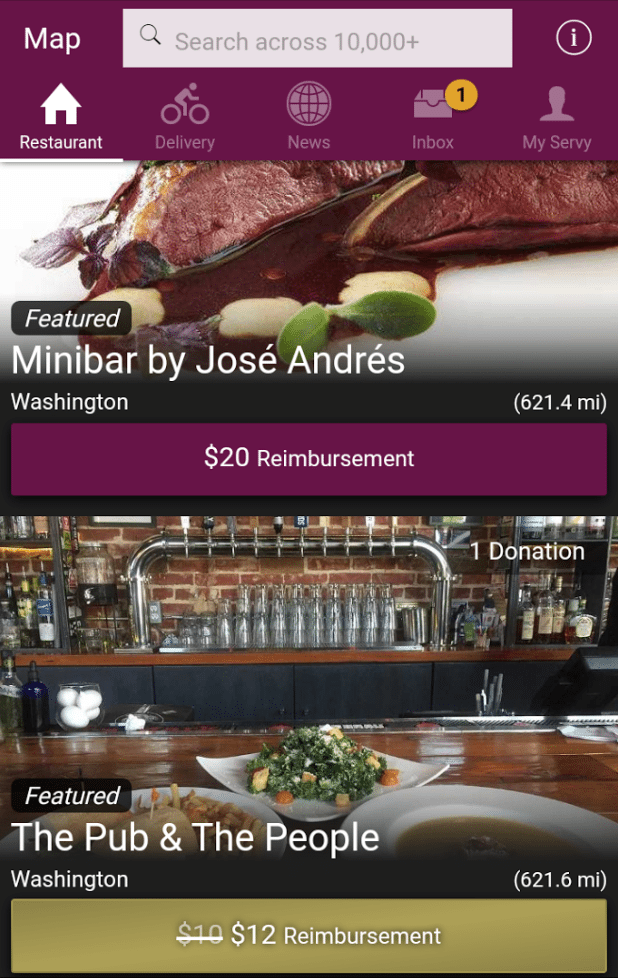 Servy Refer A Friend Program $5 Rewards
Once you download the Servy App, you can participate in their referral program to earn a $5 reward for each new Servy user that you refer after they complete an approved evaluation at a featured restaurant.
You will earn a $5 referral bonus for each Servy consultant that you refer who completes an evaluation at a featured restaurant after it is approved.
Simply visit the "My Servy" section of your app to share Servy via Twitter, Facebook, email, and text message.
After you sign up for the Servy App, please feel free to post your referral link as well as your experiences using Servy in the comments below this article to share with other readers.
If you love to explore new restaurants and share your dining experiences, take advantage of the Servy App to get paid for being a mystery diner at a variety of different restaurants.
If you like to get paid for dining out, but you don't care too much for writing reviews and providing feedback, then you may wish to check out Restaurants Plus to earn cash back when you dine out at participating restaurants.