Check out these 10 tips to managing your checking account properly for new banking clients, so that you can balance your checkbook, avoid overdraft fees, receive alerts for account activities, and control your spending effectively.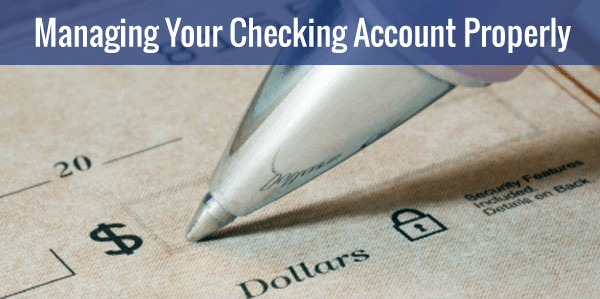 If you've already considered the Most Important Checking Account Features that you'll need to manage your money properly and opened your new checking account, it's now time to start using and managing your checking account effectively, so that you can get the most out of your bank's services.
Improperly managing your checking account can lead to fees and financial penalties that will cost you some of the precious money that you're trying to save, so make sure that you follow these tips on managing a checking account, especially if this is your first bank account and you're still learning how to use your new checking services.
1. Sign Up for Online and Mobile Banking
Access to online banking and mobile apps is just one of the many Free Banking Services that are available to checking account customers from most banks, so you'll want to take advantage of these Internet management tools to keep track of your new checking account.
Create an online account on your bank's website and download your bank's mobile app to access your checking account whenever you want from anywhere in the world.
You can perform almost any activity that you need for your checking account through online banking, such as viewing your balance, cashing checks, paying bills, and transferring money, so there's rarely a need to visit your bank's branch in person if you use all of your bank's online services.
2. Set Up a Direct Deposit
If your employer offers a direct deposit for your paychecks, set up this option with your new checking account to get paid faster and avoid the hassles of cashing your check each payday.
Setting up a direct deposit to your checking account is free, and you simply provide your employer with your checking account number and your bank's routing number to get started (you can provide them with a voided check if required).
A direct deposit is the easiest way to get paid by your employer and receive your paycheck in a timely manner.
Plus, many banks like Chase Bank, PNC Bank, and Bank of America will give you a new checking account bonus when you set up a direct deposit, so you could actually earn some extra money for doing so.
3. Opt-Out of Overdraft Protection
Overdraft protection helps you avoid having your debit card declined or a check bounce if you don't have enough money in your checking account to complete the transaction, because your bank will "loan" you the money to cover the amount of funds needed instead of declining the transaction.
However, most banks will charge you a large overdraft protection fee for this service, which can actually cost you a lot of money if you accidentally make any errant transactions.
It's best to avoid this altogether by opting-out of any overdraft protection services that your checking account may offer.
If you properly balance your checkbook and take other steps to avoid overdrafts, you shouldn't need the overdraft protection service anyways.
4. Set Up Checking Account Alerts
Setting up online alerts for your new checking account can help you avoid overdrafts, prevent fees, and learn about any unauthorized transactions that may be initiated for your account.
For instance, you can set up an alert within your online banking portal that notifies you whenever your checking account balance goes below a certain amount, like within $100 of your minimum balance requirement.
This way, you'll know when you're nearing your minimum balance that is needed to avoid any monthly fees, so you can add some extra money to your checking account or refrain from making further debit card purchases until your balance increases (Tip: Open a Free Checking Account to avoid maintenance fees altogether).
You can receive your checking account alerts via text messaging on your mobile device or emails to your inbox.
5. Check Your New Account Regularly
It's a good idea to make a habit out of checking your account online on a regular basis, such as once a week or every other week at the least.
This will help you maintain a mental note of how much money you have in your checking account, so that you can avoid overspending.
Additionally, you'll want to check your account for any errors or fraudulent transactions that may have occurred, so that you can report them to your bank immediately.
This should only take a minute or so to log in to your account and review your recent transactions, so make sure that you do it regularly to avoid any issues going forward.
6. Use Online Bill Payments
If your bank offers a free online bill payment service, you can utilize this to avoid late payment fees for your utilities and other bills.
Online bill pay allows you to enter a person or company to which you want to make payments, and your bank will then send the funds electronically or mail a paper check to the payee.
You can pay as many bills as you want with 1-time payments or set up recurring payments for up to a year or longer in advance, which can help you avoid making late payments on all of your bills.
If you do plan on using recurring online bill payments, it's important to balance your checkbook regularly and understand that your bank statement may indicate that you have more funds available than you actually have, since a portion of your balance may be earmarked for future online bill payments.
7. Beware of Earmarked Funds
If you use online bill pay, write checks, or set up automatic recurring charges on your debit card, it's important to maintain your awareness of these earmarked funds in your checking account balance, and to separate them mentally and in your checkbook from the funds that you have available for immediate use.
For example, you may review your account balance online and see that you have $1,200 available in your account, but you might also have an upcoming automatic electric bill payment for $200, a recurring debit card charge of $300 for your healthcare, and a check that you sent to your landlord for $500, so you actually only have $200 available for immediate use in your account.
If you don't keep track of all of your recurring payments and online bill payments, you could easily overdraft your account, simply because you weren't aware of earmarked funds in your checking account.
This can also occur due to the delay between the moment a transaction occurs and when it actually posts, so you should always track your debit card transactions, ATM withdrawals, paper checks, and other transactions, so that you always know the difference between your posted balance and the actual balance that is available for immediate use.
You can do this by balancing your checkbook on a regular basis.
8. Balance Your Checkbook
Balancing your checkbook is how you reconcile the balance that is currently shown in your checking account with the balance that you have recorded on your own.
You can balance your checkbook in a simple paper checkbook register, which most banks will provide to you upon account opening, or you can use an online spreadsheet or even a personal budgeting software like You Need A Budget, depending on your preference and your additional budgeting needs.
You should balance your checkbook on at least a monthly basis and make sure that you include all of your upcoming earmarked funds, so that you always know how much money you actually have available for use in your checking account.
With a properly balanced checkbook, you should avoid any overdraft fees and be fully aware of your past and future financial transactions, so that you can control your spending.
9. Sign Up for Paperless Statements
Many banks offer paperless statements, which allow you to access your statements online instead of receiving them by mail.
Paperless statements are a great way to avoid excessive paper waste and theft of your banking statements due to improper disposal.
You can receive alerts whenever your new monthly billing statement is available online, and you can usually access your statements for up to 7 years, so it's an easy way to safely keep your records available whenever you need them.
10. Utilize Your Bank's In-Network ATMs
Automated Teller Machines (ATMs) are a convenient way to withdraw cash from your checking account, deposit cash into your checking account, and perform other transactions.
Most checking accounts come with a free debit card, which gives you access to your account at ATMs around the world.
However, you'll want to make sure that you use your bank's in-network ATMs exclusively when you withdraw cash to avoid any ATM usage fees, unless your bank specifically reimburses you for ATM transactions outside of their ATM network.
Learn which ATMs around town are available freely to you and use them whenever you need some extra cash in your pocket.
If you plan on being somewhere where you need cash, but won't have access to your bank's ATM network, make sure that you withdraw enough cash beforehand, so that you don't get stuck going to an ATM outside of your network and paying extra fees just to get your money.
If you do find yourself outside of your ATM network, you can also withdraw some extra cash from your checking account at grocery stores or supermarkets by paying for a purchase with your debit card and requesting some cash back. There is usually no surcharge for doing this, and your bank classifies this as a purchase, so you won't be charged for using a foreign ATM.
If you follow these tips for first-time checking account customers, you should be on your way to properly managing your checking account in an effective way, and you'll get even more benefits out of your new checking account relationship.