This WesBanco promotion offers $150 for opening a new checking account by December 31, 2016, plus an extra $50 for referring a friend.
WesBanco Bank operates banking offices in the states of West Virginia, Ohio, and Pennsylvania.
You'll get up to $150 for opening a new checking account with this WesBanco promotion when you use your debit card, sign up for eStatements, set up a direct deposit, and use online bill pay, and you'll get another $50 when you refer at least one of your friends to open a new account as well.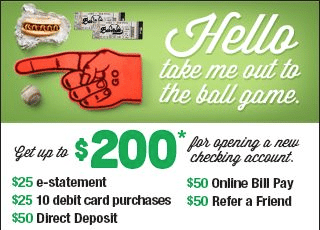 How To Earn $200 WesBanco Bonus
All of the bonus activity must post to the account within 90 days of your new account opening in order to qualify for the bonuses.
1. $25 to activate eStatements.
2. $50 to make 2 direct deposits of at least $200 each.
3. $50 to pay 2 bills with online bill pay.
4. $25 after 10 debit card purchases.
5. $50 for referring a friend to open a checking account.
Check out this WesBanco Promotions Page for more details.
WesBanco Account Opening Bonus Details
The minimum balance to open an account and receive the bonus is $50.
The bonus will be credited to your account 90 days after the account is opened.
If you have a current checking account, or you transfer funds from an existing WesBanco deposit account, then you are not eligible to earn these offers.
Customers who have received a new account opening or debit card usage bonus on any previous WesBanco checking account are not eligible for this offer.
Businesses and WesBanco employees are not eligible for these bonuses.
All bonuses are limited to 1 per account.
$50 WesBanco Refer A Friend Bonus
A $50 bonus will be credited to your account after your referred friend who is a new WesBanco checking account customer opens a checking account.
WesBanco Basic Checking Account Features
An initial deposit of $50 is required to open this non-interest bearing account.
No minimum balance requirement or monthly service charge when you select their electronic statement option through WesBanco's Online Banking service within 60 days of opening the account.
Customers that choose to receive a monthly, mailed paper statement will be subject to a $4 monthly service charge if your daily balance falls below $500.
Free 24-hour Online Banking, Bill Pay, AND Mobile Banking.
WesBanco MoneyCard debit card with no WesBanco per transaction fees on daily purchases and unlimited, FREE ATM transactions at any WesBanco, AllPoint and STARSsf Network ATMs.
WesBanco offers several other personal checking accounts including 55+ Checking, A+ Checking, Interest Checking, Premium Checking, Freedom Checking, and Freedom Gold Checking.
Get this WesBanco promotion for up to a $200 checking account bonus.