T-Mobile has introduced a new banking service called Mobile Money that includes many features of a checking account for free.
About T-Mobile Mobile Money
Mobile Money combines a reloadable T-Mobile Visa Prepaid Card with a surcharge free nationwide ATM network, and you can manage your account via an app on your smartphone.
You can sign up for T-Mobile Mobile Money online or get your new card in T-Mobile stores.
How To Use Mobile Money
You can deposit checks to your Mobile Money account by taking a picture of them on your smartphone.
You can pay bills and shop online with your T-Mobile Visa Prepaid Card.
You can even send money to other Mobile Money members as long as you have their wireless phone numbers and the last 4 digits of their cards.
You can send up to $100 a day for up to $500 total in a month.
How To Fund Mobile Money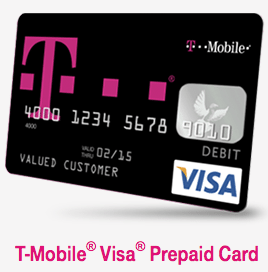 You can load your Mobile Money card using cash in T-Mobile stores.
You can set up a direct deposit to your Mobile Money account for all or part of your pay, dividend, disability, and government checks (Social Security, tax refund, welfare, etc.).
You can load your card by purchasing a Reloadit Pack using cash only at participating retailers or at any Visa ReadyLink reload location (fee is refunded for reloads of $300 or more).
You can also use the MoneyGram ExpressPayment service to add funds to your T-Mobile card.
Mobile Money is Free To Use
Mobile Money is basically free for T-Mobile customers.
There are no purchase fees, no reload fees in T-Mobile stores, no monthly maintenance fees, and no withdrawal fees at over 42,000 in-network ATMs nationwide.
There are some fees for non-typical use, like if you use ATMs outside of their partner network or you need to make an immediate bill payment.
People without a qualifying T-Mobile plan will incur additional fees.
Who Mobile Money Benefits
Mobile Money is a great option if you can't otherwise qualify for a Free Bank Account, so that you can cash your checks, manage your money, pay bills, and make other card payments.
It's also an easy way to send money to your family and friends who are also members.
However, if you're looking for manufactured spending or other ways to Increase Your Credit Card Rewards, then this will probably not work for those purposes, as there doesn't seem to be a way to fund Mobile Money using a credit card.
There is an ongoing discussion about this topic on FlyerTalk if you are interested in exploring the options.
Otherwise, if you are a T-Mobile customer and need a simple way to manage your money for free, then you might want to give Mobile Money a try.