Beacon Credit Union offers a 5.05% APY on balances of up to $2,500 with their Choice Plus Checking account.
Beacon Credit Union Membership is available for select residents of Virginia and North Carolina as well as other qualified individuals.
If you don't qualify for Beacon CU membership, then you may be interested in this Northpointe Bank 5% APY Account to open a nationally available account for anybody in the U.S.A.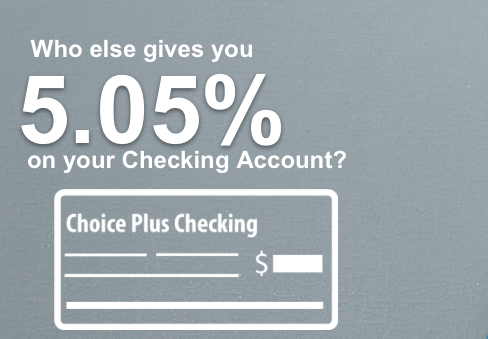 Earn 5.05% APY with Choice Plus Checking
Choice Plus Checking offers a 5.05% APY on up to $2,500 in deposit balances with no monthly service fee.
Choice Plus Checking Features
5.05% APY on Balances up to $2,500.
Free Checks.
Free BillPay.
Free Online Banking.
Free Direct Deposit.
Free eStatements.
No Monthly Service Fee.
$100 Minimum Opening Deposit Required.
Requirements to Earn 5.05% APY
Must have a direct deposit each month to the account.
Must maintain an Average Daily Balance of $300.
Must sign up for eStatements.
Must complete 15 debit card transactions per month.
If you complete these requirements, you'll earn a 5.05% APY on your deposited balance of up to $2,500, which is equal to an approximate bonus of $126.25 in earned interest each year, if you maintain the full $2,500 balance.
Rate Details
The 5.05% Annual Percentage Yield (APY) is paid on balances between $0.01 and $2,500 each month that a member makes 1 direct deposit and a minimum of 15 debit card transactions.
A 0.15% APY is paid on the portion of account balances over $2,500 for each month that the requirements are met.
A rate of 0.15% APY will be paid on all balances over $0.01 each month that the requirements are not met.
Rates and terms for this account are effective October 7, 2011, and subject to change.
Interest is compounded monthly.
Please note that Choice Plus Checking accounts are subject to credit qualification.
If you meet the membership qualifications and you can complete 1 direct deposit and 15 debit card transactions each month, then the Choice Plus Checking account from Beacon Credit Union is a great way to earn a 5.05% APY on your deposit balances.