Elevations Credit Union will give University of Colorado Boulder students a $100 bonus when you open a Buff One Banking student checking account with a free debit card and eStatements through August 31, 2017.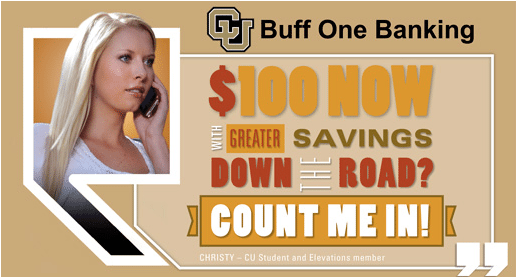 About Buff One Banking Accounts
Buff One Banking accounts are for University of Colorado Boulder students only.
If you qualify, Buff One Banking has no monthly service charges and no minimum balance requirements.
If you aren't already an Elevations Credit Union member, then a $25 member savings deposit is required (your membership share in Elevations Credit Union).
In order to get the $100 bonus, a debit card and eStatements are required at the time of account opening.
Check out this Buff One Promotional Page to open your account online today and earn a $100 bonus.
$100 Buff One Banking Promotional Details
A new Buff One checking account required for eligibility.
You must be a new Elevations member and a University of Colorado student.
Debit card and eStatements required at time of account opening to receive $100 offer.
Limit 1 $100 offer per unique Social Security Number per 12-month period.
Age 13 or older.
If the account does not remain open through May 1, 2018, the $100 will be charged against the account balance at time of closing.
The $100 will be described as a dividend adjustment on your account.
You will receive a 1099-INT form stating dividend income for tax reporting purposes.
Cannot use $100 bonus to fund $25 membership savings account requirements.
Offer valid May 1 through August 31, 2017.
If you are a student at the University of Colorado, take advantage of this Buff One Student Banking offer to get a $100 bonus.